Cardiff (CWL1) Data Center Campus
Cardiff Data Center Campus Overview
46
acre (19 hectares) campus
148MW
of critical IT load
2M
square feet (186K square meters)
Just one hundred miles from London's urban density and located in the U.K.'s tech corridor, our 46-acre Cardiff campus will include three data centers once fully developed, two of which are now operational. The campus, designed and built to exceed Tier III standards, will feature 2,000,000 gross square feet (186,000 gross square meters) with density per rack ranging from 2kW to 125kW+. CWL1 is considered to be one of Europe's largest data center campuses to meet customer demand from around the world.
Sited near the M4 and major airports, the campus is easily accessible by air, rail and car—about 40 minutes from Bristol. The secure site meets the U.K. government's highest standards and is just one of the many reasons that multiple blue-chip, high-growth companies currently house their IT infrastructure in one of the U.K.'s most efficient data centers.
We're pleased to offer you all the advantages that come with choosing Vantage Data Centers. You'll find a unique combination of people and technology: cooling and power that's both sustainable and reliable; flexible room design and rigidly enforced physical security; and amenities that keep your staff happy—all backed by operational excellence at every location as we scrupulously adhere to our rigorous service and delivery standards across the globe.
Certifications:
bsi ISO 9001: Quality Management Systems
bsi ISO 14001: Environmental Management
bsi ISO/IEC 27001: Information Security Management
bsi ISO 45001: Occupational Health and Safety Management
ISAE 3402, SOC 2
For a complete list of our corporate certifications, please click here.
Awards:
Data Centre World Awards 2023 – Best Data Centre Operator
DC

S

 Awards 202

3 – Data Centre Hosting/co-location Supplier of the Year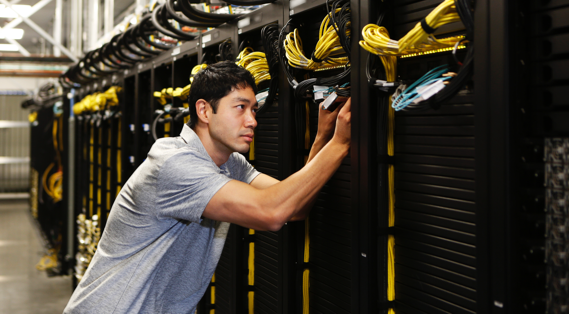 Power
Vantage's Cardiff data center campus provides N+N topology for redundancy. A unique dedicated 400kV substation on campus connects, directly and privately, to the U.K. SuperGrid. All power into the campus is 100% renewable energy and available at highly competitive rates.
Most powerful data center campus in Europe
Direct, private 400kV SuperGrid connection, supported by regularly tested, highly resilient generators and UPS systems
All systems concurrently maintainable
100% renewable energy
Cooling
The Cardiff data center campus deploys multiple cooling technologies, including indirect evaporative air handling units and dry cooler CRAH-based systems in conjunction with highly efficient pumped DX systems.
In addition, a range of customized "to the rack" cooling systems supports high-density and high-performance computing applications within data modules, including liquid to chip, hot/cold aisle, chimneys, in-row coolers and plate heat exchange.
Minimum N+1/N+20% on all mechanical systems
Prevailing climate supports free air cooling throughout much of the year
Customized HPC cooling solutions available
Connectivity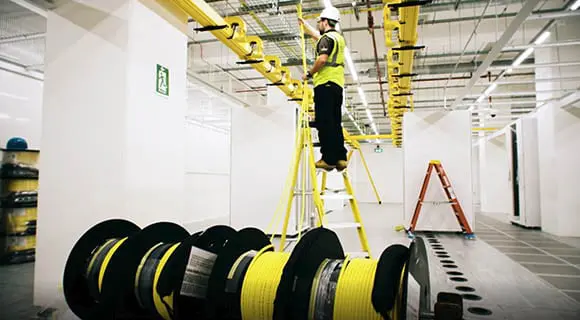 Rich in connectivity, the Cardiff campus has fiber delivered by many Tier 1 service providers and offers low latency between Wales and London of less than 1.5 milliseconds. Currently, building one has three points-of-entry (POE) and eight Meet-Me-Rooms (MMR), with the ability to expand. Buildings two and three will have similar connectivity, all based on customer requirements.
The campus offers Cloud Gateway, which facilitates direct access into leading public cloud providers such as Microsoft ExpressRoute. Customers can also take advantage of Connect, which provides pre-installed links to virtual meet-me-rooms in London. In addition, the campus is a new hosting facility for LINX Wales.
Carrier-neutral campus
10GE, nx10GE, 40GE and 100GE point-to-point connectivity
Low latency: <1.5 milliseconds, Wales to London
Pre-installed links to virtual meet-me-rooms in London
Direct access into leading public cloud providers
Independent fiber route available
12+ international carriers
Security
Stringent security and safety measures are hallmarks of every Vantage campus. Our Cardiff data center campus is no exception, so you can rest easy when it comes to the security of your digital assets.
Sited in a low crime rate area, the data center campus sets back from the perimeter, which has military-grade fencing, digital tripwires and multiple IR CCTV towers with diverse power and connectivity feeds. Ten-ton, anti-ram raid blocks are installed between paved areas and entries for added protection. Traffic management systems are in place at the entrance and the exit, supported by double airlock gates. Layered access is controlled using zoned card swipe and CCTV monitoring throughout and can be supplemented with custom fitments for multi-factor authentication, secure trunking, airlocks and additional surveillance.
On-site security operations center with patrols 24x7x365
Meets or exceeds the standards required by global enterprises
Meets the U.K. government/military security specifications
Amenities
Our commitment to offering a superior customer environment is unsurpassed. Providing an atmosphere within each data center that helps you and your personnel relax, recharge and work more efficiently is essential. Clients have access to our lounge with catering facilities, meeting rooms, board rooms and conference center. Dedicated offices, meeting rooms and lab/tech spaces are available by request.
Dedicated offices and workspaces customizable to your needs
Multiple conference rooms and meeting spaces throughout the campus
Near the M4 and major airports with strong links to several local universities and research centers
Sustainability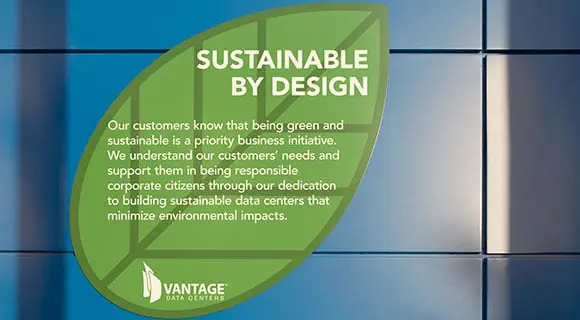 Vantage Data Centers builds and operates our campuses in ways that prioritize sustainability and environmental responsibility, all while delivering the reliability that is our hallmark. Our baseline approach includes using renewable energy whenever possible, limiting carbon footprints, and maintaining energy efficient operations with industry-leading PUEs. Our Cardiff data center campus delivers on this promise.
100% of energy sourced into the campus is from renewable sources
First U.K. data center to affect a U.K. Climate Change Agreement
Support for MPAN billing offers customers the ability to nominate their own energy suppliers
Continuous improvement in cooling efficiency, including the latest air-to-air plate heat exchange for low PUEs
Prevailing climate in South Wales supports free air cooling for most of the year
Electric vehicle charging stations
Small things that add up over time: recycling, motion-sensor LED lights, drought-resistant landscaping and more
Cardiff Data Center Gallery
Related Resources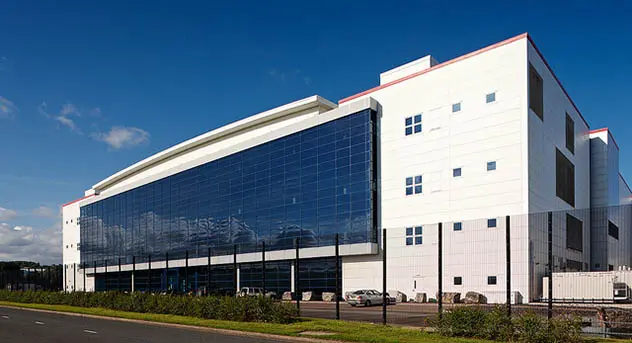 DATA SHEET
Download the Cardiff, United Kingdom, data sheet to learn more about the campus, its specifications and features that make it unique.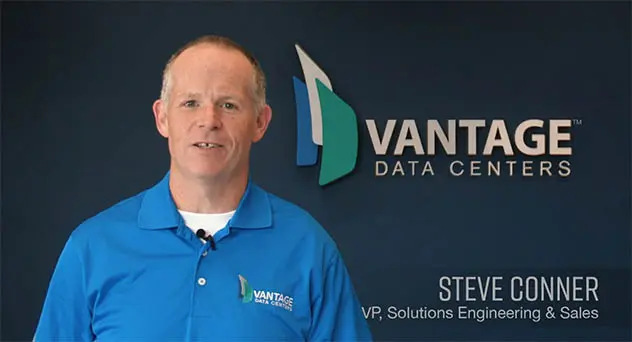 VIDEO
Step inside one of our state-of-the-art data centers and experience all that Vantage has to offer.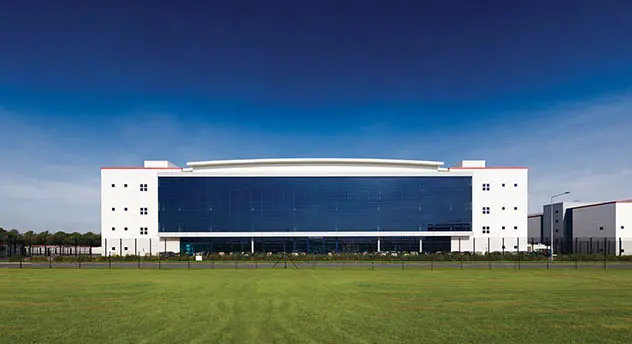 BLOG
Vantage Data Centers doubles its hyperscale portfolio in 2020 with an aggressive European expansion and acquisition of Next Generation Data.
Get Started
Campus Address
Celtic Way, Coedkernew, Duffryn,
Newport NP10 8BE
United Kingdom
Celtic Way, Coedkernew, Duffryn,
Newport NP10 8BE
United Kingdom
Get directions on Google maps.