;
Designed for servers. And people, too.
Vantage Data Centers can be your home away from home. While our engineering priorities are focused on creating the most efficient use of space for housing, powering, cooling and maintaining the lifeblood of your organization, we also don't overlook the people who will be on-site every day.
Uncommon common areas.
It starts with a pleasant and welcoming entrance and lobby staffed around the clock. We make sure you'll have all you need beyond the lobby as well—for each megawatt programmed, there is also 300 square feet each of dedicated office and storage space, fully configurable and yours to lease if you choose. In addition, you'll have access to conference rooms for face-to-face meetings or, with their secure conferencing capabilities, virtual meetings that can span the globe.
We realize that to be their best, people also need to relax, unwind and recharge. You'll find well-stocked kitchens and break rooms with activities from table tennis to gaming. There are even showers and locker rooms for freshening up at any time of the day or night.
Made for people who take care of servers.
One of the best ways to help you de-stress is to eliminate some of the worrisome aspects of your job in the first place. Loading your equipment, at move in or any time thereafter, is one. We make it simpler with spacious loading docks that are easy to access, elevators and hallways with clearances to put your mind at ease, even oversized doorways into your data modules. In short, we've thought about your needs, and are ready to make your experience with Vantage a pleasant one.
Highlights
Customizable customer offices
Secure storage with easy access between data modules
Multiple conference rooms and meeting spaces
Kitchens, break rooms and showers
Loading docks with hydraulic lifts for easy off-loading of deliveries
Staging area for use up to 72 hours, featuring active power outlets, and can be used for unpacking and testing hardware/equipment
Related Resources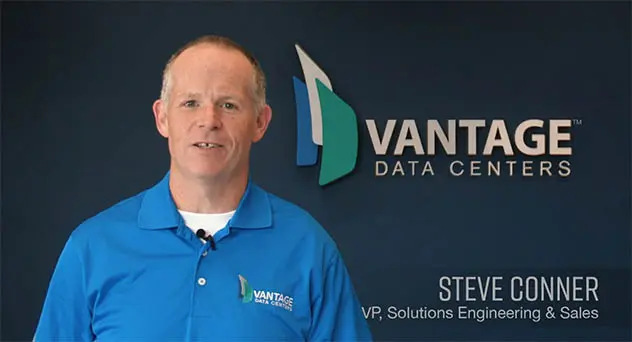 VIDEO
Step inside one of our state-of-the-art data centers and experience all that Vantage has to offer.
Explore Additional Features
Ready to answer all your questions.