;
Security—physical and procedural.
Physical security at every Vantage data center campus is evident as soon as you arrive. What you can't always see from the outside is our stringent adherence to industry safety and compliance measures as well. It's all part of keeping you, your IT assets and your enterprise safe.
Eyes on site—human and CCTV.
Beyond the vetting procedures at entry lies a defense-in-depth approach to both physical and electronic security systems, including industry-leading security management, 24-hour on-site security patrols, a visitor management system, access badges, biometric dual authentication and video monitoring. In fact, they all meet rigorous industry standards and most go beyond. 
Perimeter security gates and fencing

On-site security operations, patrolling 24x7x365, including campus perimeter

CCTV cameras with 90 day archiving

Dual authentication (access badge/PIN and biometric readers) for the customer and critical infrastructure areas

Visitor management system—monitored access points, trained personnel 

Additional security options available for data modules

Detailed security metrics available to clients
Certifications
Compliance and audit support.
Vantage is committed to continual improvement. We demonstrate this by meeting international and industry standards as well as customer-specific compliance requirements. We undergo annual assessments and verifications by third-party, globally licensed CPA firms and accredited certification bodies. Vantage's management systems have been certified to several ISO standards and have been attested that our security and availability controls are operating effectively in compliance to SOC 1 Type 2, SOC 2 Type 2, SOC 3, PCI-DSS, HIPPA, PIPEDA and others.
Our management systems have been certified to the following international standards:
ISO 9001—Quality Management Systems
ISO 14001—Environmental Management Systems
ISO 27001—Information Security
ISO 45001—Occupational Health and Safety
ISO 50001—Energy Management Systems (North America only)
Newly constructed sites adopt the controls required by the above standards and are subject to certification at the next certification cycle.
Have peace of mind knowing that Vantage stands ready to help with your compliance matters, too, whether they be in quality, security or availability.
Related Resources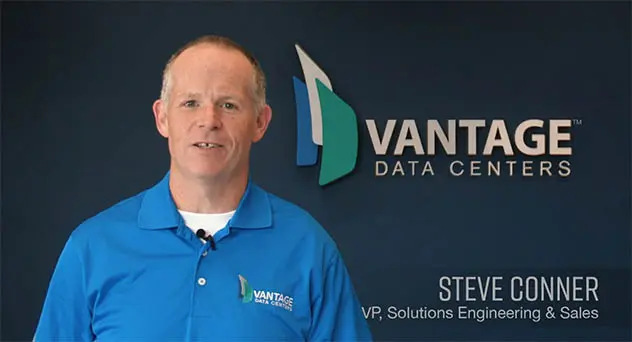 VIDEO
Step inside one of our state-of-the-art data centers and experience all that Vantage has to offer.
Explore Additional Features
Ready to answer all your questions.