When we design an empty data module, we imagine it full. Because within the square footage that will one day be yours, nothing is arbitrary. It's applied mathematics–what are the scenarios for racks and where can breakers, outlets and network connections ultimately be placed? While those decisions are yours, we're ready for whatever configuration you choose, because we've gamed out all the possibilities beforehand, including designing for 300 watts per gross square foot to power your high-density applications.
Ready for your choice of layout.
With sturdy slab flooring in the vast majority of cases, our 4MW modules are laid out to best accommodate your 24 to 30 rack rows and feature a minimum ceiling height of 12′ 6′′ for easier cabling and maintenance. If you need a raised floor, our designs can still accommodate rack weight of greater than two tons (a minimum of 250 pounds per square foot).
The highly efficient airflow of our positive pressure, hot aisle containment is achieved in part by maintaining the computer room air handling (CRAH) units outside your data module, on opposite sides. This means more room for your racks, CRAH maintenance always performed away from your critical IT infrastructure and an even more pleasant working atmosphere for your personnel when in the room.
Lights. Motion. Action.
Data modules are provisionally lit to code, awaiting your final layout. Once determined, we complete lighting installation using LED lights and following California Title 24 Building Energy Efficiency Standards. Fire systems are either VESDA or high-sensitivity smoke detection devices.
Even moving in is simpler. The trip from the loading dock to your data module will be worry free. All flooring can easily handle the weight, while doorway and elevator opening heights are all from 10′8′′ to 9′ high for easier and safer onboarding.
Full fit-out available, too.
We stand ready to work with you on the design of your fit out if desired, from power distribution—both RPP and busway—to low voltage cable conveyance, containment and more.
Highlights
Standard 4MW modules of up to 15,000 square feet
300 watts per gross square foot
Oversize doorway heights
12′6′′ minimum ceiling height
Can support high-density racks of 4,000 pounds and greater
Lighting to California Title 24 Building Energy Efficiency Standards
CRAHs sited outside the data module
Complete fit-out design available
Related Resources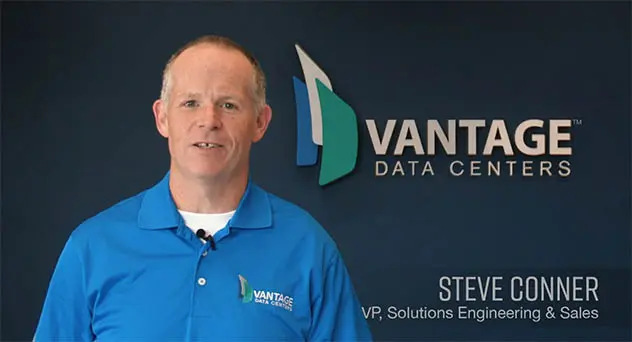 VIDEO
Step inside one of our state-of-the-art data centers and experience all that Vantage has to offer.
REPORT & BROCHURE
Data Centers Facility Management
Vantage's Critical Facilities Management services bring the same level of dedication and focus on efficiency, operational excellence, reliability and maintenance to your data center as we do to our own.
Explore Additional Features
Ready to answer all your questions.