;
As smart appliances fill our homes and businesses and the cloud grows by the nanosecond, the data center industry consumes more and more energy. This has a real effect on carbon emissions across the globe, as well as impacting precious natural resources. Vantage Data Centers designs, builds and operates our campuses in ways that prioritize sustainability and environmental responsibility, helping you meet your corporate social responsibility goals. We see this as a natural outgrowth of a partnership that can advance technology while remaining an exemplar of good corporate citizenship.
Partnering with utilities.
Customers at all our campuses globally can take advantage of renewable energy to reduce their carbon emissions. Four of our campuses are powered by more than 99% renewable energy (hydro, tidal and wind) for critical IT load through our utility partners, while other campuses provide access to green power purchases and renewable energy credits through local utilities.
Vantage actively partners with energy providers, customers and industry groups, such as the Renewable Energy Buyers Alliance (REBA), to advocate and invest in additional renewable energy options globally. We consult with regional utilities regarding their use of renewable energy sources within the mix of uninterrupted power they provide our campuses. As your partner, we'll alert you to carbon offset investment opportunities that subsidize those utilities' use of renewable energy. Of course, we always seek ever-lower PUEs in all our data centers to reduce your costs and provide a better value—but we also recognize that operating more efficiently contributes to reduced carbon emissions as well.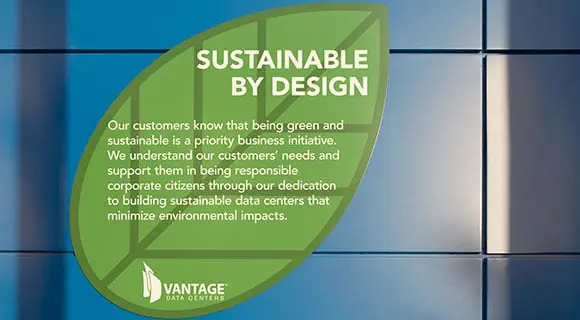 Making Water Usage Effectiveness (WUE) irrelevant.
Moving forward, Vantage is committed to an air-cooled model. While many conventional data centers consume hundreds of thousands of gallons of water yearly (typical for the industry is one half gallon per every kilowatt hour consumed), our air-cooled chillers feature a closed-loop system that needs no ongoing water source.
There's no longer any need to compare WUEs when choosing a data center—ours is virtually zero.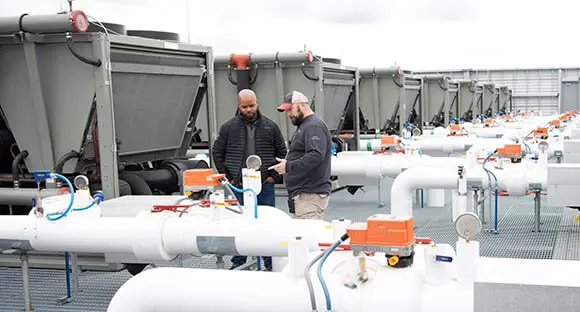 Generating our own power for non-critical uses.
For power not dedicated to cooling and operating servers, we have the freedom to be more creative, adding on-site renewable energy generation. This includes outdoor lights, powered by solar and wind, and solar-powered electric vehicle charging stations. For example, our large "solar tree," a multi-tier array of photovoltaic cells installed at our Northern Virginia campus, keeps 3.3 metric tons of CO2 emissions out of the atmosphere each year while generating 4,788 Kw hours of power—in other words, enough to drive an electric vehicle 16,000 miles.
Campus designs that reveal the future of energy.
Imagine a data center built in the not too distant future that captures the heat generated by servers and uses it as a supplemental source of power. While this may not be economically feasible today in a commercial offering, Vantage's core philosophy around continuing to be a positive driver for change is at the heart of trying to bring ideas like this to reality. We strive to make our buildings as environmentally friendly as possible. Indeed, there is no measure too small, because they all add up. From LED lights to EV charging stations, our commitment is evident within every data center. 
Throughout our many campuses, you'll find the following environmentally-responsible features:
Campuses powered by renewable energy, from hydro to tidal and wind: Quebec City, Canada; Montreal I, Canada; Montreal II, Canada; Cardiff, United Kingdom
Uptime Institute certifications (Quincy, Washington; Quebec City, Canada; and Montreal, Canada)
LEED certifications (Santa Clara, California; Quincy, Washington; Montreal, Canada – in progress)
Use of reclaimed water
Incorporation of sustainable building materials
Green roofs
LED lighting and motion sensors
Solar panels generating non-critical electricity and EV charging stations
Drought resistant landscaping
Recycling of materials
Related Resources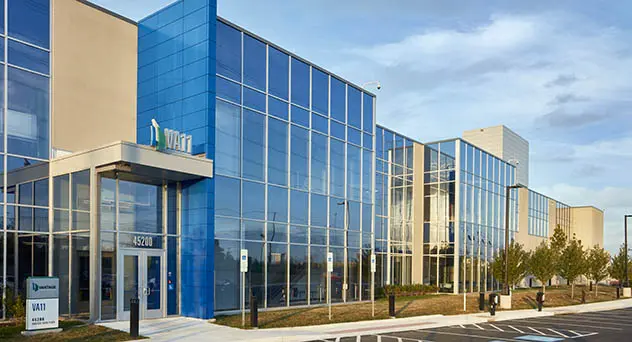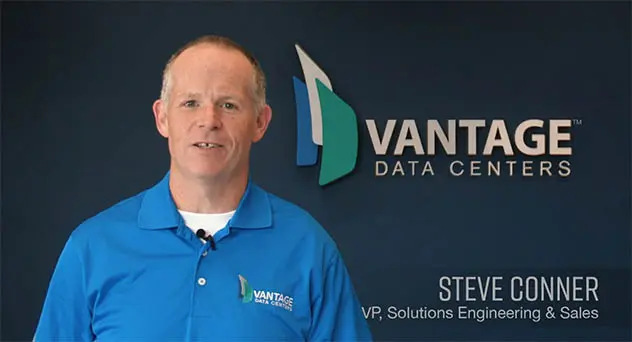 VIDEO
Step inside one of our state-of-the-art data centers and experience all that Vantage has to offer.
Explore Additional Features
Ready to answer all your questions.