;
Reliably powering your IT infrastructure without compromise.
With an IT capacity totaling nearly 1.5GW+ of potential power across North America, EMEA and APAC, we stand ready to support your most demanding computing and application needs. Vantage employs a replicable model for growth, operations and maintenance to deliver dependable high-performance that's also efficient and sustainable. Our application of building technologies means you'll be supported by in-house experts certified to design, build, maintain and repair the infrastructure. We strive for environmental stewardship and leverage green energy sources wherever possible.
The design.
Our high-density campus footprints provide up to 300 watts per square foot with our standard data module capable of supporting an average of 8.3kW of power to each rack. Leveraging an adaptive cooling architecture, customers have the flexibility to deploy up to 20kW racks with traditional air-cooled technology and more than 50kW racks using liquid to rack cooling solutions. In addition, our standard data module includes 4MW of IT capacity with all mechanical and electrical components located just outside the room in dedicated galleries, giving you more real estate for your digital assets. 
Delivering business redundancy and resiliency.
Our current electrical design architecture features a "5 to make 4" distributed redundant weave approach that equates to N+1 redundancy for concurrent maintainability. Our standard generators are 2.75MW diesel engines with 5,000-gallon belly tanks, closely coupled to each of the five IT distributed redundant blocks, supporting a full IT load for an uninterrupted 24 hours.
Efficient by design.
Currently delivering an annualized PUE under 1.3, Vantage seeks to reduce that ratio to the low 1.2 range in the future. We have partnered with regional electrical utilities to explore their renewable energy products to provide optionality for our customers. For example, our Canadian and Quincy data centers are located in regions served primarily through hydroelectric power.
We're exploring new ways to reduce energy consumption every day. Our standard design utilizes the following energy efficient features:
Energy Star certified high-efficiency double-conversion UPS systems

Chillers with integral water side economizer

Computer Room Air-Handler (CRAH) units with high-efficient ECM fans

Energy recovery type Direct Outside Air-System (DOAS) units
It all adds up to an approach to power that passes efficiencies on to you, while providing the peace of mind you want. At the same time, you can demonstrate strong corporate social responsibility without raising your total cost of ownership with Vantage's proven, standardized, yet flexible approach.
Highlights
Annualized PUE < 1.3

High density footprints up to 300 watts per square foot

8.3kW to the rack on average, projecting 11kW+ in near future

Redundancy: N+1 power

Generators can support full load for 24 hours

Seek renewable energy where possible
Related Resources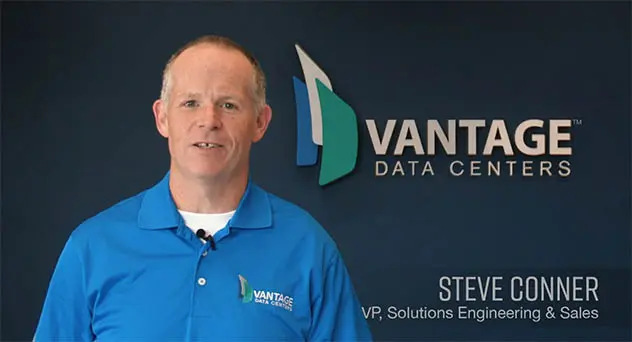 VIDEO
Step inside one of our state-of-the-art data centers and experience all that Vantage has to offer.
Explore Additional Features
Ready to answer all your questions.