Montreal II (QC4) Data Center Campus
Montreal II Data Center Campus Overview
Conveniently located close to downtown Montreal and less than two miles from our QC1 campus, this 10-acre site will include three facilities totaling 48MW of critical IT load and 320,000 gross square feet of space once fully developed. Built to Tier III+ standards with an annual design PUE at full capacity of 1.2, the campus offers 300W/SF average densities and can support high-density applications.
We're pleased to offer you all the advantages that come with choosing Vantage Data Centers. You'll find a unique combination of people and technology: cooling and power that's both sustainable and reliable; flexible room design and rigidly enforced physical security; and amenities that keep your staff happy—all backed by operational excellence at every location as we scrupulously adhere to our rigorous service and delivery standards across the globe.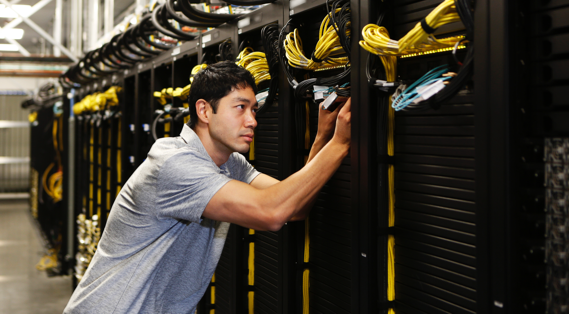 Power
We'll make sure that you're always up and running so you can focus on achieving your business goals. Vantage's Montreal QC4 campus offers redundancy and guaranteed uptime for peace of mind. Our team is constantly building and deploying the latest technology and services to continually improve efficiency and reliability.
N+1 redundancy
Robust energy efficient UPS and generator configuration with no single point of failure
Fed by two 25kV feeders and a dedicated 120kV substation
Nearly 100 percent hydroelectric power, creating very little greenhouse gas and no harmful waste
Cooling
The colder Montreal climate means our campus can use outside air for free cooling almost the entire year. To extend cooling efficiency even further, we use hot aisle/cold aisle air containment that prevents air from mixing.
Highly efficient custom redundant indirect air-cooling system for industry-leading PUE in all climates
N+1 redundancy across all mechanical systems
Hot aisle/cold aisle air containment for optimal airflow
Connectivity
QC4 is a highly connected, carrier-neutral campus. Six distinct and physically diverse entrances feed into redundant Meet-Me-Rooms (MMRs) with access to more than 10 regional, national and international carriers.
Highly connected and carrier neutral
10+ carriers available
Four MMRs allowing for diverse paths and multiple connectivity options
Geographic redundancy between Quebec City and Montreal grids
Security
Stringent security and safety measures are hallmarks of every Vantage campus. QC4 is no exception, so you can rest easy when it comes to the security of your digital assets.
Multi-layer physical barrier with more than 160 10-ton granite boulders
Crash-rated motorized gate and fencing with barbed wire
Biometric identification, facial recognition entry and mantrap
24/7 video surveillance and on-site security
Amenities
A space where your employees can work efficiently, as well as relax and recharge, is essential. Discover our built-to-suit amenities that will provide a user-friendly experience like no other.
Customizable offices and workspaces dedicated to individual customers
Multiple conference rooms and meeting spaces throughout campus, plus a lounge and cafeteria
External dock, dedicated staging and storage areas
Proximity to Montreal's main business district with entertainment, airport and highways
Sustainability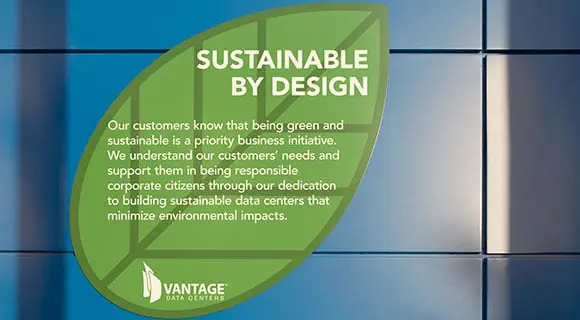 Vantage Data Centers builds and operates our campuses in ways that prioritize sustainability and environmental responsibility, all while delivering the reliability that is our hallmark. Our baseline approach includes using renewable energy whenever possible, limiting carbon footprints, and maintaining energy efficient operations with industry-leading PUEs. Our QC4 campus delivers on this promise.
Energy generation by Hydro Quebec, 99.5 percent hydroelectric power
Free cooling throughout most of the year using outside air
Geothermal energy used to cool and heat technical spaces
Rainwater captured on-site and reused
Small things that add up over time: recycling, LED lights and more
Montreal II Gallery
Related Resources
DATA SHEET
Download the Montreal, Canada (QC4), data sheet to learn more about the campus, its specifications and features that make it unique.
WHITE PAPER
Dive into why Canadian data center markets are so attractive for companies and discover why Montreal is emerging as a leading North American destination.
BLOG
A look at the unique characteristics – from climate to workforce – that are making Montreal a draw for the data center industry.